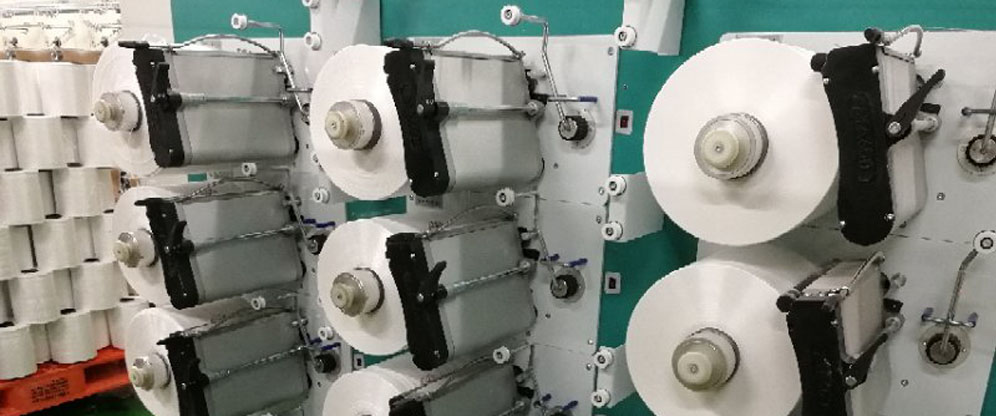 Model ATA600DG
Winding Ratio Electronic
Winding Speed 3-50m/min
Max Bobbin Diameter 320mm
ATA600DG winder suitable for: PP tape, Monofilament, Grass fiber, Glass fiber, Coating&dipping fiber, Ceramic fiber, TPFE fiber, PPS fiber, High performance plastic fiber.

The winder, designed for speciality fiber, is the preferred product for upgrading and updating of speciality feiber enterprises. It can produce the big spindle with max diameter of 300mm which keeps the yarn tension inside and outside consistent, to ensure the highest efficiency and quality of the next process.


Big spindle with good quality, max winding diameter of 300mm.
All winding parameters can be input and stored electronically, switching variety of fibers quickly and effectively.
Variable electronic winding ratio, to ensure the tension inside and outside big spindle consistent.
Dual motors, independent drive, reduce the associative links, decrease the maintenance cost.
Yarn guide roller with ceramic surface treatment, to reduce the damage for fiber.
High flexibility and wide range of application.
Mechanical characteristics and optional items:
Reduce the pressure of yarn press roller(The pressure will reduce with the winding diameter enlarges)
Reduce the tension of yarn (Pneumatic&controllable tension bar)
Special coating surface of yarn guide roller(Optional: yarn guide roller with orange skin surface treatment)
Meter counter and capacity inquiry(Optional: increase capacity inquiry and immediate speed display)
| | |
| --- | --- |
| Winding Ratio | Electronic |
| Titer | 180-3000dtex |
| Winding Speed | 150-600m/min |
| Max Bobbin Diameter | 300mm |
| Tube ID | 50/76/90mm |
| Tube Length | 220/270/280mm |
| Traverse Length | 200/250mm |
| Yarn Tension | 100-1200cN |
| Frame Structure | 4 tiers, single row |
﹡Can be adjusted on customer's request.