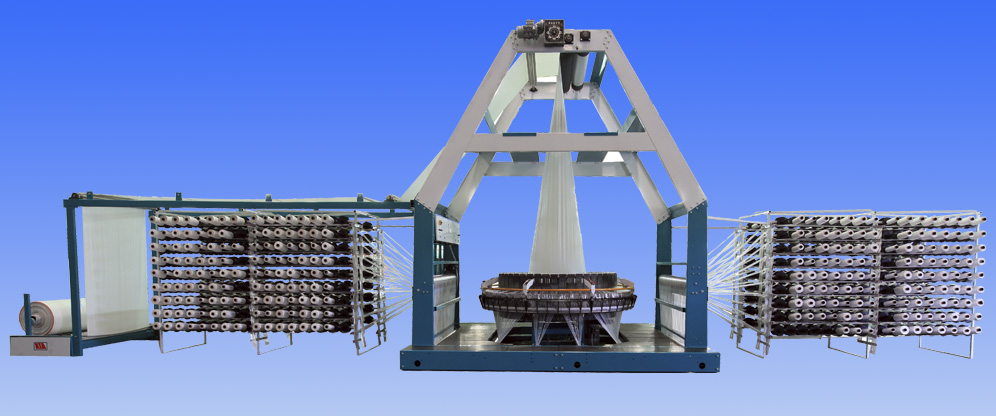 circular loom Asiastar-8M
Model Asiastar-8M
Fold width 1150-1500mm DFL
Shuttle number 8pcs
Weft insertion (max.) 960ppm

The circular loom aims to achieve high-efficiency and high-tech knitting. It is suitable for continuous production and knitting of PP or HDPE yarns, and is specially used for 3m tarpaulin products.


Qty Description
1 Main machine
l 24 sets of heddle belt + heddle wire, 22 of heddle wires stations in each group, totaling 528 pcs.
l Rolling reed structure is beneficial to the oil-free fabric, enhances the film coating effect, and meets the requirements of food-grade products.
l The main motor Siemens variable frequency drive.
l With automatic refueling cup, you can set the refueling time and fueling amount on the control screen.
4 Shuttle
l The shuttle is equipped with an automatic weft yarn tension control device.
l The shuttle is equipped with front and back Block yarn plate, Max.can loading 110mm diameters weft yarn.
1 Circular loom control system
Circular loom central computer control system can be used
► Adjust the weft density
► Set the length of the Fabric
► Order order
► Manually operate the lifting system without turning it on and provide the following device parameter indications:
l 4 file automatic meter
l Run time calculation
l Change roll / cloth roll indication
► Equipment Evaluation System
The module determines the following additional parameters for each class and evaluates:
l Running time of the device
l The number of warp yarn breaks
l Number of weft yarn breaks
l Frequency of weft yarn use up
l The weft yarn can be precisely adjusted in the open/stop state to optimize the fabric surface effect.
l The above instructions are available in two languages (English/Chinese), with metric or imperial (inch) systems
2 Creel
l 2 creels total 512 stations
l The creel is designed according to the warp yarn spindle and can be loaded with a spindle with a diameter of 160mm.
Note: Not include Bobbin
1 Electrical configuration
► Lighting device
l Equipment is equipped with 2 sets of 18W LED lighting tubes
► Heat sink
l Not Equipped cooling fan in Tension frame.
l But the fan interface and switch are reserved in the control cabinet.
► Let-off system
l A total of 2 feed rollers, ensure that the warp yarns are smoothly fed into the main machine and maintain the real-time tension average.
l Each let-off motor is controlled by load cell + Inverter control let-off motor. Let-off roller control by Let-off motor.
► Take-up system
l Weft density is set by the circular loom main control system.
l Take-up motor 0.37 KW power driven by a frequency converter.
► Central drive system
l Through the V belt by three-phase inverter control motor (two-stage transmission) driven CAM rotation control over and drive the shuttle.
l Main motor power is 2.2 KW
► Weft yarn detection
l It is equipped with a photoelectric sensor and a proximity switch to control the weft yarn together and stop automatically when the weft yarn used up.
l It is recommended to use black bobbin for best effect.
Remarks: Please use light colored tube for black yarn!
► Warp yarn break detection system
l Each warp yarn is length compensated by tension adjuster and automatically stops the machine when yarn breaks.
l The warp yarn breakage has an indicator light, and the 4 groups of indicator lights are distributed around the equipment.
► Weft yarn break detection system
l 1 sets of magnetic sensors monitor the weft yarn. In case of broken weft yarn, it will stop the machine automatically.
► Button boxes
l There are 4 sets of button boxes around the main machine for easy operation. Each control box have inching button, stop buttons and start buttons; all are Schneider brand.
1 Fabric winding device
l A friction type winding device is equipped with a load cell, which is controlled by a 0.37KW inverter, and the winding motor is a 1.8NM torque motor.
l We offer a 3″ roll core (standard size).
Remarks: 4".6" roll core can be selected - need to be customize
1 Bobbin saving
There is a platform on each side of the circular loom for placing the bobbin.
* according to equipment requirements
We reserve the right to modify the technical parameters due to the continuous improvement of equipment technology.
| | |
| --- | --- |
| Shuttle/ machine | 8pcs |
| Weft insertion (max.) * | 960ppm |
| Working width | 1150 – 1550mm |
| Weft density | 20 – 40 /10 cm |
| No. of warp tapes | 1152pcs |
| Bobbin inside diameter ** | 38mm |
| length of bobbin ** | 220mm |
| Warp bobbin diameter(Max.) | 160mm |
| Weft bobbin diameter(max.) | 110mm |
| Winding roll diameter(Max.) | 1200mm |
*Is determined by the yarn's quality, size and density.
** Please specify if there is any special requirements