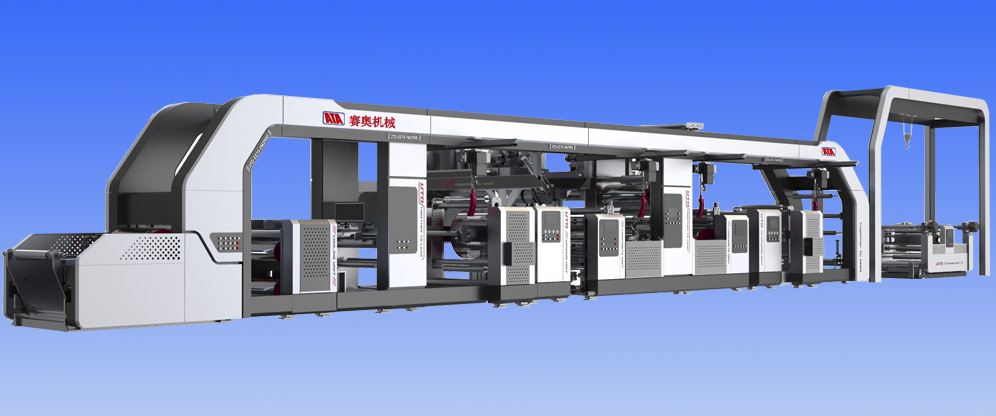 Model AEC1600
Laminating width 1100-1500mm
Working speed 20-120m/min
Width of T-die 1600mm

AEC1600 uses polyethylene or polypropylene as raw material for production, and is widely used in product packaging, storage and transportation in industries such as fertilizer, cement, metallurgy and minerals.

This machine adopts single extruder, die head and lamination section to drive with stepless speed regulation, single side of woven fabric coated with plastic film, or kraft paper (BOPP color film) and plastic woven fabric composited to make two in one, three in one composited material.

The control system of this machine is equipped with Siemens PLC &touch screen and automatic tension controller, which can make the whole amchine run synchronously and track automatically with the function of joint control.


Pos

Description

1

Extruder

1) Screw &screw tube: Φ90mm, L/D 33:1, material 38 CrMoAlA 1 set

2) Auxiliary materials of screw &screw tube 1 set

3) Extrusion motor: 45kw 1 set

4) Inverter: 45kw 1 set

5) Heater: Heating ring 1 set

6) Automatic temperature controller of screw tube: Autonics 7 sets

7) Thermocouples of screw tube: Taiwan 7 pcs

8) Extruder advanced and retreated motor: 1.5kw 1 set

9) Travel switch 1 set

10) Longevity net changer 1 set

11) Filter heater: 10kw 1 set

12) Automatic temperature controller of filter screen: Autonics 2 pcs

13) Solid state relays: Taiwan 2 pcs

14) Filter thermocouples: Taiwan 2 pcs

15) Automatic feeder: China 1 set

16) Hard tooth surface grinding tooth self-smoothing reducer: Jiangsu 1 set

17) Worm gear reducer 1 set

18) Proximity switch 1 pc

19) Extruder synchronous belt 1 set

1

Laminating die head

1) T-Die head 1 set

2) T-Die width stepless adjustment device: Hand wheel adjustment 1 set

3) T-die head internal heating tube 1 set

4) T-die head material: Die steel

5) T-die head automatic temperature controller: Autonics 7 sets

6) T-die head thermocouples: Taiwan 7 pcs

1

Double station fabric unwinder

1) Double station unwinding frame and guide rail 1 set

2) Unwinding reel 2 pcs

3) Magnetic powder brake: 20kg Aibo 2 sets

4) Automatic tension sensor 1 set

5) Automatic tension controller: Aibo 1 set

6) Correction method: Photoelectric hydraulic correction (Gold medal) 1 set

7) Rubber roller 1 pc

8) Steel roller 1 pc

9) Cylinder: QGB 50×50 2 sets

10) Clamping method of unwinding reel: Pneumatic taper jacking

1

Lamination machine

1) Mirror cooling roller: Dia. 600x1600mm, spiral cooling 1 pc

2) Silicone roller: Dia. 250x1600mm, screw cooling 1 pc

3) Press roller: Dia. 210x1600mm, spiral cooling 1 pc

4) Rubber bending roller 1 pc

5) Inverter: 5.5kw 1 set

6) Motor with reducer: 5.5kw 1 pc

7) Cylinder: QGB160x80 2 pcs

QGB100x80 3 pcs

8) Rotary joint: 2'' 2 pcs

1" 4 pcs

9) Preheating roller:

Dia. 320x1600mm, mirror treatment, electric heating 1 pc

① Automatic temperature controller: Autonics 1 pc

② Thermocouple 1 pc

1

Double station kraft paper unwinder

1) Double station unwinding frame and guide rail 1 set

2) Unwinding reel: 3'' Inflatable shaft 2 pcs

3) Magnetic powder brake: 20kg Aibo 2 sets

4) Automatic tension sensor: Aibo 1 set

5) Automatic tension controller: Aibo 1 set

6) Correction method: Hand screw rectifying deviation 1 set

7) Rubber roller 1 pc

8) Steel roller 1 pc

9) Cylinder: QGB 50×50 2 sets

10) Clamping method of unwinding reel: Pneumatic taper jacking

1

Double station friction winder

1) Double station friction winding, swing rod return to position automatically when fabric roll changing ( Machine does not stop when changing fabric roll) 1 set

2) Winding roller 1 pc

3) Tension sensor 1 set

4) Rubber press roller 1 pc

5) Winding reel 2 pcs

6) Inverter: 5.5kw 1 set

7) Motor with reducer: 5.5kw 1 set

9) Winding cylinder: QGB100×700 3 sets

10) Crosscutting knife: Rodless cylinder, Japan SMC 1 set

11) Max dia. of winding: 1500mm

12) Automatic fabric roll unloading device

1

Fixed width edge cutting machine

1) Pneumatic cutter device 2 sets

2) Knife anvil roller 1 set

3) Fixed width edge cutting device 2 sets

4) Edge blowing device 1 set

5) Waste edge winding machine 1 set

1

Electrical System

1) Power distribution cabinet 1 pc

2) Operate electric cabinet 1 pc

3) Temperature control cabinet (Installed on the extrusion host) 1 pc

The speed control system of extruder, lamination machine and winder are driven by the inverter. The control system realizes the synchronous operation of extruder, compound machine and winder. This unit adopts the laminating weight control system independently developed by our company to make the operation of the equipment intuitive and intelligent. The switch control parts adopt Schneider brand, the control system adopts Siemens PLC &touch screen and automatic tension sensor composed of synchronization control system makes the whole production line synchronous linkage control. Operators can adjust the linear speed through the man-machine interface, make production record, trouble record and on-line check.

The temperature control system adopts PID self-tuning control mode to maximize temperature control accuracy.

Power supply: three phase / 50Hz, 380V + single phase 220 V
| | |
| --- | --- |
| Laminating width | 900-1500mm |
| Laminating thickness | 0.012-0.05 |
| Width of T-die | 1650mm |
| Material of T-die | 4Cr13 |
| Rated power | 140kw |
| Max. extrusion capacity | 250kg/h |
| Revolution of screw | 100r/min |
| Screw diameter | Φ90mm L/D 33:1 |
| Length of roller | 1600mm |
| Max dia. of unwinding& rewinding | Φ1500mm |
| Max corrective scope | ±150mm |
| Compressed air supply | 0.6m3/min |
| Material of screw | 38 CrMoAlA |
| Working speed | 20-120m/min |
| Water supply | 0.5m3/min |
| Weight | 25tons |
| Dimension | 12.5×10.5×3.5 m |
| Color | Standard color |