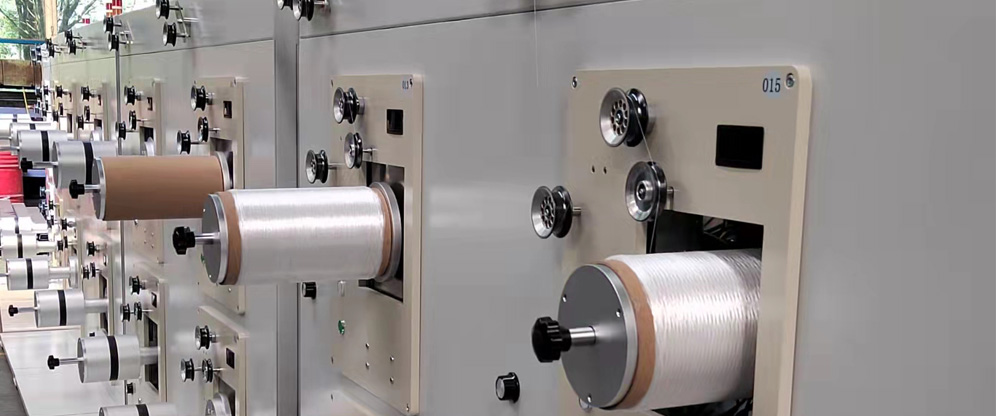 Winding Ratio Electronic
Winding Speed 3-50m/min
Max Bobbin Diameter 320mm

AW90 winder suitable for: 24K or above carbon fiber, Towpreg
This model is specially designed for extra brittle fiber, its special design of two-axis rewinding spindle can achieve no-damage rewinding.
l The special design of winding spindle is equipped with the function of two-axis winding. Itself rotates and winds to form a spindle, in the meantime, it can integrate the winding with traverse yarn guide on one winding spindle together with the function of traverse movement according to the winding ratio.
l The winder is specially designed for some extra brittle and fragile fiber without any damage or influence for fiber in the process of winding.
l Fixed parallel yarn feeding head, without any traverse force and displacement, to eliminate the damage for fiber caused by the friction between yarn and spindle.
l Yarn feeding device displaces with the winding diameter enlarges and always keep the fixed gap with the bobbin. To ensure the winding angle and tension without the influence from the diameter of spindle, meanwhile, it can control very small tension.
l Electronic tension control: it can be adjusted online through the uniform setting on man-machine interface. Using the tension sensor of single shaft to adjust the tension be balanced and consistent with high-precision tension.
l Doffing structure: manual doffing device.
l Yarn guide roller: all yarn guide roller adopt ceramic surface treatment which have no damage for yarn with high durability.
l Length/Winding diameter setting: winding length and winding diameter can be set with early pre-warning function and full change-over warning prompt function.
l Processing parameter storage: all processing parameter can be stored in PLC and used directly after confirmation. It can store max 10 kinds of processing parameters.
l The design structure of whole machine is compact with less easy damaged spare parts and convenient maintenance.
| | |
| --- | --- |
| Winding Ratio | Electronic |
| Titer | 24-80K |
| Winding Speed | 3-50m/min* |
| Max Bobbin Diameter | 320mm |
| Tube ID | 76/94mm* |
| Tube Length | 280mm* |
| Traverse Length | 250mm* |
| Yarn Tension | 200-1500cN |
| Frame Structure | 2 tiers, single row |
﹡Can be adjusted on customer's request.