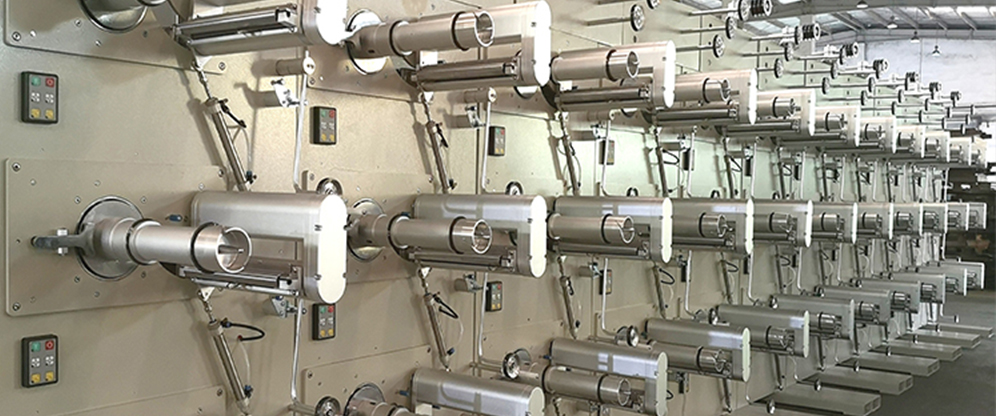 Titer 50-3000dtex
Max.Winding Speed 800 m/min
Max. Bobbin Diameter 300mm

AW10 of winders suitable for: Aramid fiber, PBO fiber, UHMWPE fiber, PIfiber, high performance ceramic fiber.

The winder is designed for the high-speedy rewinding of high performance fiber with the highest rewinding speed of 800m/min. The structure of winder is neoteric and it can reduce the friction for fiber to an extreme and avoid damaging the quality of fiber in the process of winding; the machine is more reliable with less maintenance.


Electronic winding ratio: precise electronic winding ratio, it can achieve precise winding through randomly changing winding parameters and patterns according to the specification of fiber.
Variable winding ratio: it can be set randomly which is benefit to the winding of big spindle with the perfect shape and without the fallen yarn.
Electronic tension control: it can be adjusted online through the uniform setting on man-machine interface. The tension is balanced and consistent with high precision.
Yarn feeding structure: special design of two-roller yarn entrance with less touch point which can reduce the friction for fiber to an extreme and avoid damaging the quality of fiber.
Contact pressure control: the numerical value of contact pressure can be set uniformly through the man-machine interface; special designed structure of contact pressure. The contact pressure will reduce gradually and naturally with the winding diameter enlarges in the winding process.
Traverse control: adopting servo drive, high precision of yarn guide and perfect shape.
Yarn guide roller: all yarn guide roller adopt ceramic surface treatment which have no damage for yarn with high durability.
Length/Winding diameter setting: winding length and winding diameter can be set with early pre-warning function and full change-over warning prompt function.
Processing parameter storage: all processing parameter can be stored in PLC and used directly after confirmation. It can store max 10 kinds of processing parameters.
The design structure of whole machine is compact with less easy damaged spare parts and convenient maintenance.
| | |
| --- | --- |
| Titer | 50-3000dtex |
| Winding Ratio | Electronic |
| Winding Speed | 200-800m/min |
| Maximum Bobbin Diameter | 300mm |
| Yarn Tension | 50-1100g |
| Tube ID﹡ | 76.2mm/94mm |
| Tube OD | 86mm/104 mm |
| Tube Length﹡ | 280mm |
| Traverse Length﹡ | 250mm |
| Frame Structure | 3 tiers, single row |